The Apprenticeship of Duddy Kravitz (1st edition)
Organization: McGill University Library's Rare Books and Special Collections.
Coordinates: http://www.mcgill.ca/library/library-using/branches/rarebooks
Address: McGill Rare Books, 4th Floor, McGill University Library, 3459 McTavish, Montreal, QC H3A 0C9
Region: Montreal
Contact: Ann Marie Holland, Ann.holland(a)mcgill.ca
Description: A book in the first Canadian-British edition of The Apprenticeship of Duddy Kravitz by Mordecai Richler. Complete with dust jacket, it is part of the Saul Shapiro Collection of Anglo-American Judaica. It bears the author's autograph.
Year made: 1959
Made by: André Deutsch publisher
Materials/Medium: Paper
Colours: Cover: red, white, black, grey, pale blue
Provenance: Published in London, England. This copy is ex-libris Saul Shapiro.
Size: 20 cm x 14 cm x 4 cm
Photos: Courtesy Rare Books and Special Collections, McGill University Library
Richler's The Apprenticeship of Duddy Kravitz
Joel Yanofsky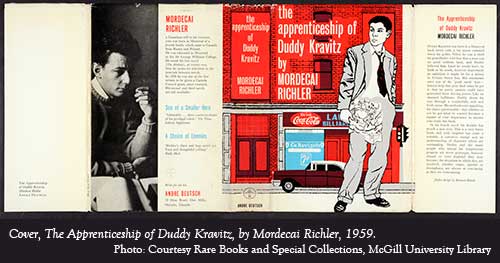 The cover of the Canadian first edition of Mordecai Richler's The Apprenticeship of Duddy Kravitz features an illustration of a young man in a rumpled suit, tie loosened, standing in front of a pool hall, on a city street corner. This stand-in for the title character is a bit too tall, too handsome – in the first few pages, Duddy is described as "a small narrow-chested boy… with a thin face" and "black eyes… ringed with dark circles" – but, even so, he captures something essential about Richler's anti-hero. A hustler and a schemer, Duddy uses just about everyone he meets, but he also has lofty dreams. He's intent on following his grandfather's advice to own land and determined, in his own way, to earn the respect of his community. Mostly, he's restless to be, in his own words, "a somebody." Whoever said you can't judge a book by its cover would have been wrong in this case. This cover, with its brash red background, its pulp-fiction look, reveals a great deal about The Apprenticeship of Duddy Kravitz. Mainly, that it was, from the moment it first appeared in 1959, a book desperate to be noticed, to announce itself to a wider world. It succeeded in doing both.
It succeeded, too, in announcing its author. His name is all in capitals on the front cover, like a billboard advertising the long-anticipated arrival of MORDECAI RICHLER. His author's photo on the back cover is quintessential Richler, cigarette dangling from his fingers, his expression unsmiling, scornful. You can practically measure the chip on his shoulder. What is often forgotten today, given the place this classic coming-of-age story holds in Canadian literature, is that The Apprenticeship of Duddy Kravitz was Richler's fourth novel. The first three, mostly forgotten now, had failed to live up to Richler's expectations. As a consequence, an awful lot was riding on the new one.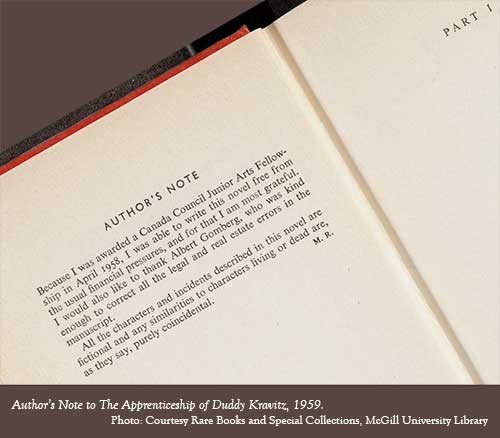 In the summer of 1958, in a letter to his friend and fellow writer William Weintraub, Richler, referring to his work-in-progress, confided: "Am very worried abt it." Two things worried him in particular: how easily the novel was progressing – "the 'quickest' I've ever done," he'd say later – and how unlike his previous novels it was. So while his earlier work dealt with diverse themes like existential angst (The Acrobats), family dysfunction (Son of a Smaller Hero), and post-World War II politics (A Choice of Enemies), they shared a common failing: they were relentlessly grim. In the completed first draft of Duddy Kravitz, Richler recognized a sea change. Writing again to Weintraub, he said: "It's not a comic novel, tho – I hope – there are 'comic' sections in it." A year later, the dust jacket copy on the first edition highlights the shift in its then 28-year-old author's style and tone: "In his fourth novel, Richler (strikes) a new vein. This is a very funny book."
In retrospect, it's easy to see that Richler had discovered, with this "very funny book," the uncompromising, irrepressibly smart-alecky voice that would serve him well throughout the rest of his career as a novelist, a satirist, a political commentator, and an all-purpose troublemaker. The rags-to-riches story at the heart of The Apprenticeship of Duddy Kravitz – Duddy was born with "a tin spoon rammed down his gullet," the dust jacket proclaims – was not particularly unique, but the characters were. "Montreal Jew-ville" is what Richler brazenly dubbed the community of characters he was drawing from. As for Duddy, Richler envisioned a trilogy all about him. That never quite panned out; still Duddy was "his first great character," according to Richler biographer Charles Foran, providing "a template for a dozen roaring creations to come."
But setting the story where he did, in the lower-class immigrant streets of Montreal, may have been Richler's biggest risk. He left Montreal for Europe when he was 19 and during his own apprenticeship tried hard not to write about his hometown. After all, who'd ever heard of Montreal or Quebec, let alone St. Urbain Street? Still, by the time he set out to tell Duddy's story, Richler was whole-heartedly embracing where he, as a writer, was from as well as who he was. Not everyone was pleased by this development, especially Montreal's Jewish community, which often felt provoked and offended by their native son's depictions of them. "Why couldn't you give him an Italian name?" Richler was once asked after a talk in a synagogue. It was a question he openly mocked but secretly cherished. He was delighted to know he had hit a nerve and he would go on looking for them. Besides, Richler had no desire to be a cheerleader for his country, his city, or his community. Instead, his ambition was, as he would repeatedly explain in interviews, to be "an honest witness to my time, my place."
The witnessing began, in earnest, with The Apprenticeship of Duddy Kravitz, which is the true legacy of Richler's breakthrough novel. Not only did The Apprenticeship of Duddy Kravitz put Canadian writing on the international literary map like no other novel had before, but it delivered an invaluable message to future generations of Canadian writers, especially Anglophone writers in Quebec: Be Authentic. No matter how marginalized, how parochial your place may seem to you, if you tell the truth about it, your truth, it will matter. Indeed, your main job, as a writer, is to make it matter. For Mordecai Richler, certainly, his time and place proved worthy enough to result in one of our funniest, most scandalous and memorable novels.
Sources
Mordecai Richler, The Apprenticeship of Duddy Kravitz, Andre Deutsch, Toronto, 1959.
William Weintraub, Getting Started: A Memoir of the 1950s, McClelland & Stewart, Toronto, 2001.
Charles Foran, Mordecai: The Life & Times, Knopf Canada, Toronto, 2010.
Joel Yanofsky, Mordecai & Me: An Appreciation of a Kind, Red Deer Press, Calgary, 2003.
To Learn More
Michael Posner, The Last Honest Man: Mordecai Richler, An Oral Biography, Toronto: McClelland & Stewart, 2004.
Mordecai Richler, Mordecai Richler Was Here: Selected Writings, Toronto: Madison Press Books, 2006.
Mordecai Richler: Library and Archives Canada, www.collectionscanada.ca
Author
Joel Yanofsky is a Montreal writer. His latest book is the memoir Bad Animals: A Father's Accidental Education in Autism (Penguin).