Elsie Reford's Fishing Book
Organization: Amis des Jardins de Métis
Coordinates: www.refordgardens.com
Address: 200 Route 132, Grand Métis QC G0J 1Z0
Region: Lower Saint Lawrence
Contact: Alexander Reford, alexander.reford(a)jardinsdemetis.com
Description: Leather fishing logbook owned by Elsie Reford. Photo of Elsie Reford: "Mrs. Robert Reford, Montreal, QC, 1897."
Year made: 1923
Made by: Lady Aileen Roberts; J & J.H. Rutherford, Booksellers, Stationers, Kelso, Scotland
Materials/Medium: Leather, paper
Colours: Dark green, parchment, multi-coloured
Provenance: England / Grand-Métis
Size: 25.4 cm x 15 cm
Photos: Courtesy Amis des Jardins de Métis. Portrait of Elsie Reford: © McCord Museum II-119618
Elsie Reford's Fishing Book
Jacqueline Hyman and Alexander Reford
The personal fishing book of Elsie Reford (1872-1967) of Montreal was used for many years when she summered in the English-speaking resort area of Metis on the south shore of the Saint Lawrence River.
Metis, and its neighbouring community Grand-Métis, are about 400 km northeast of Quebec City. Beginning in the 19th century, Metis and other resort locations on the St. Lawrence welcomed middle and upper class English-speaking clientele from Montreal who enjoyed salmon fishing and summers by the river. The wealthy financiers, commercial entrepreneurs and industrialists of that era adopted the aristocratic lifestyle of the time. Salmon-fishing, hunting and other country pursuits gradually became as much a pastime of new money as of the old landed class.
Born Mary Elsie Stephen Meighen, Elsie Reford was raised in an upper class home. Her father was president of the largest flour milling company in the British Empire. Elsie received a good education, including finishing schools in Europe. Her husband, Robert Wilson Reford, was the eldest son of a Montreal shipping magnate. Her uncle, George Stephen, was a railway baron who founded the Canadian Pacific Railway and was one of the wealthiest men of his time. He became the first Canadian to be made a member of the House of Lords as Lord Mount Stephen. To his favourite niece Elsie, he bequeathed Estevan Lodge on more than 40 hectares (100 acres) overlooking the Metis River where she spent so many happy hours fishing with family and friends. Elsie Reford led an extraordinary life of civic, social and philanthropic involvement, enjoying outdoor activities, especially salmon fishing. She is probably best known as the creator of the Reford Gardens (Les Jardins de Métis) an English-inspired ornamental garden which is now a National Historic Site of Canada.
Elsie Reford's fishing logbook sheds more light on the life of this remarkable woman, who grew up enchanted by the Metis area. Elsie seriously pursued sport fishing, which was considered an unusual activity for a woman of her time. She fished until 1926 when recuperation from appendicitis surgery turned her interests to gardening. It was then that she created the ornamental gardens, Les Jardins de Métis. After more than 30 years of her work, the gardens extended over 40 acres. They opened to the public in 1962. She took a spruce forest and converted it into a garden that boasts a collection of over 2,000 species of plants. Working with local farmers she created appropriate soils and composts. Overcoming difficult conditions and challenges, she succeeded in bringing many species of plants to Quebec's harsh climate; even rare species like azaleas. She trained local men, farmers and fishing guides, to become expert gardeners. Since opening in 1962, the Gardens have received over 5 million visitors and achieved international acclaim.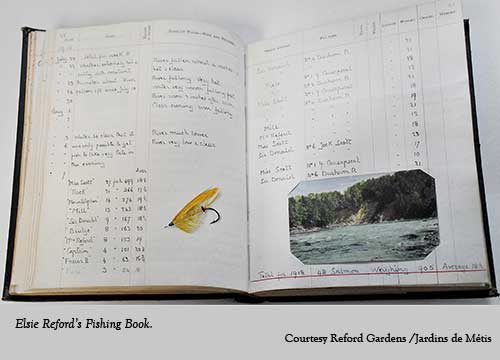 The fishing book also pays tribute to her friendship with Lady Aileen Roberts (1870-1944), eldest daughter of Field Marshal Lord Roberts, a famous general in the British Army. It was Lady Roberts who gave her this book in 1923, and created many of the lovely drawings in it. Lady Roberts was an accomplished artist whose work is exhibited in the National Army Museum in London. She spent many hours fishing with Elsie. A map of the Metis River where they fished, drawn by Lady Roberts, has proven useful to others and helps chronicle the history of fishing on the river. Also illustrating the fishing book are photographs taken by Elsie's husband, Robert W. Reford, an avid amateur photographer.
The logbook has a green leather binding and beige paper pages. Lady Roberts had it made for Elsie with columns dedicated to the standard type of fishing information: date, height in inches, state of the water, wind and weather, where caught, fly used, number taken of trout, salmon and grilse (a young Atlantic salmon on its first return from the sea to fresh or brackish waters.) and their weight. She detailed each of Elsie's catches to illustrate her admiration of her talents with the rod and reel and the many happy hours they spent fishing together on the river.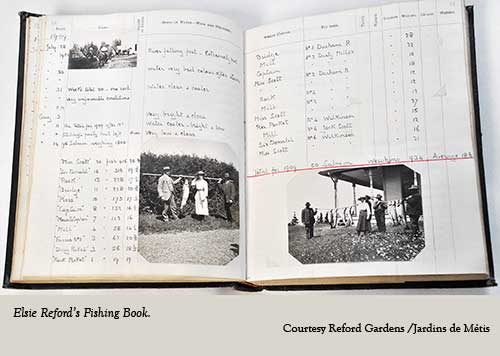 Because of its delicacy and its fragile binding, the book has been exhibited only sporadically. The Reford Gardens organization now wishes to digitize the book and make its contents available to a broader public.
The book is as much about the interests of the well-to-do English-speaking community of Montreal who summered on the Saint Lawrence as it is about that region of Quebec's Lower Saint Lawrence where it was used. The local people were by and large, happy to have the summer residents there and to cater to their needs, as it provided them an additional livelihood to fishing, farming and logging. Countless close friendships were formed, and numerous business relationships were forged. Many of the same English-speaking families have summered in Metis since the 1880s, and many of their descendants continue this yearly migration to the present day.
Sources
Alexander Reford, Elsie's Paradise: The Reford Gardens, 2004.
Reford Gardens History /Jardins de Métis, www.refordgardens.com
To Learn More
Lord Mount Stephen and the Canadian Pacific Railway, www.archivescanada.ca
D. M. Wilson, The Ontario & Quebec Railway: a history of the development of the Canadian Pacific system in southern Ontario, 1983.
Robert Meighen, www.canadianbiographi.ca
Meighen and Reford family images at www.mccord-museum.qc.ca
Authors
Jacqueline Hyman a writer and lives in the Eastern Townships. She is a member of the Board of Directors of the Eaton Corner Museum in Cookshire-Eaton, Quebec.
Alexander Reford is an historian, writer and director of the Reford Gardens. He is the great-grandson of Elsie Reford and under his stewardship, a complete restoration of the gardens and historic buildings on the property has been undertaken.