A Horse Called Farmer (children's book)
Organization: Entry Island Heritage Committee, an affiliate of CAMI Council for Anglophone Magdalen Islanders
Coordinates: www.micami.org
Address: 787 chemin Principal, Grosse Île, G4T 6B5
Region: Gaspé - Magdalen Islands
Contact: Candace Aitkens, cami_npi(a)hotmail.com
Description: A children's paperback book entitled, "A Horse Called Farmer" by Peter Cumming and illustrated by P. John Burden, about a horse on Entry Island.
Year made: 1984
Made by: Published by Ragweed Press
Materials/Medium: Paper
Colours: Red, black, green & white (cover); black and white (pages)
Provenance: Published in Charlottetown, PEI.
Size: 20.5 cm x 20 cm
Photos: Rachel Garber. Courtesy Entry Island Heritage Committee
The Story of Farmer, the Amazing Horse of Entry Island
Sandra Stock
Animals very often symbolize the inherited values of human communities. This is especially true for people in places that were traditionally, and even in modern times, isolated with challenging environments. Farmer, the tough, faithful and intelligent horse of the Magdalen Islands certainly qualifies as an example of survival against the odds of climate and geography.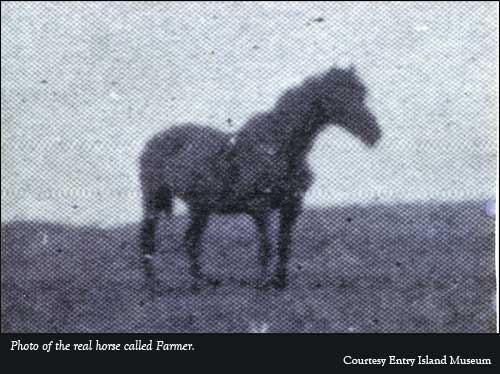 The item from the Entry Island Heritage Committee, Magdalen Islands, is a children's book, which tells the story of Farmer, a legendary local horse that had a great adventure in 1923. As with so many local histories, this story was passed down orally in the community until it was written by Peter Cumming, with illustrations by P. John Burden, as a book entitled A Horse Called Farmer, and published in 1984 by Ragweed Press in Charlottetown, Prince Edward Island. It went through seven editions in English. Ragweed Press had it translated into French, and it has been also translated into German, Danish and Welsh. Ragweed Press later folded and the book is currently out of print.
As the English copies now existing appear to be the only ones available, Entry Islanders consider these to be especially precious and important to local heritage.
Peter Cumming first heard the story of Farmer when he taught at the Entry Island School in the late 1970s, and was moved to record it as a partly fictional children's book inspired by original local information. The illustrations are lively and give a good sense of place as well as of a horse in action.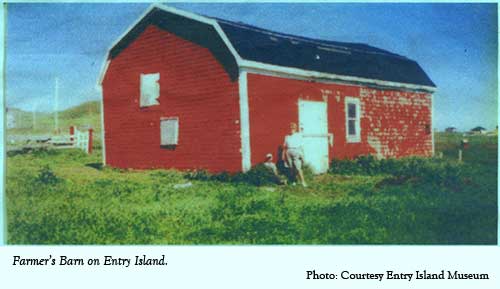 Eight major islands make up the archipelago of the Magdalen Islands: Harve Aubert, Île de la Grande Entrée, Cap-au-Meules, Grosse Île, Île du Harve-aux-Maisons, Pinte-aux-Loups, Île d'Entrée (Entry Island) and Île Brion. All but Brion Island are inhabited. The small islands that are also considered part of the Magdalen Islands include Roche-aux-Oiseau, Île-aux-Loups-marins, Île Paquet and Roche du Corps Mort. Entry Island is home to fewer than 130 residents of Scottish and English descent.
Farmer was a horse on the McLean farm on Entry Island. In March of 1923, Richard McLean traded Farmer to Curtis Quinn who lived on Grosse Île, which is at the other end of the archipelago, and which supports the other English-speaking community in the Magdalen Islands.
Travelling around in the Magdalens is complicated and hazardous. There are several long thin islands, some smaller round islands including Entry and various sandbars, uninhabited islets, and the ever varying and dangerous sea. Farmer was taken to his new home across an ice bridge that formed every winter between Entry Island and the closest sand dune, called Sandy Hook, on Amherst Island and then on to Grosse Île.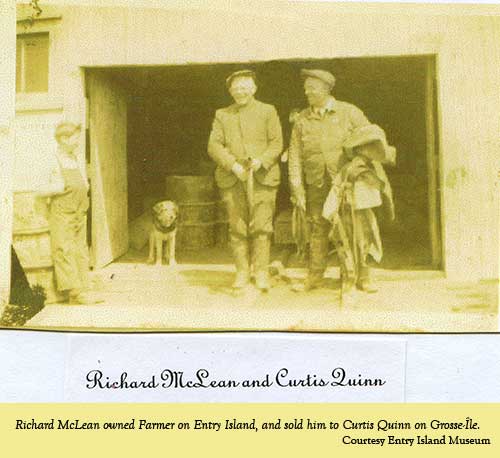 Farmer was not happy at his new location and somehow made his escape in late spring during the lobster fishing season. He headed back towards McLean's farm on Entry Island, but when he arrived at Amherst Island, the ice bridge was gone. Farmer then swam about three kilometres from the end of Sandy Hook beach to the southern part of Entry Island, called "the low place", before trotting on to the McLean barn. Farmer remained with the McLeans until he died. The McLean homestead is still standing but Farmer's barn was torn down in the 1990s.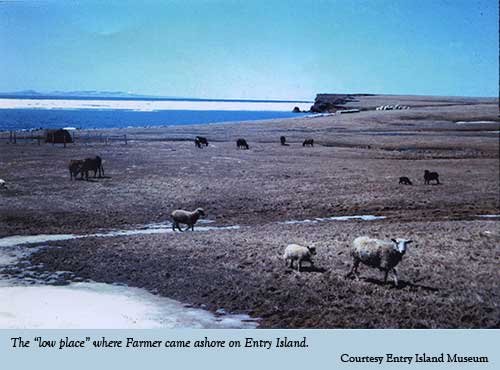 This story has been told many times over the years by residents of Entry Island and Farmer has become an important part of their history. There was a plaque recently erected in the area where Farmer was buried.
Candice Aitkens of the Entry Island Heritage Committee, an affiliate of the Council for Anglophone Magdalen Islanders (CAMI) writes, "Furthermore, this book is very valuable to Entry Island as it holds a piece of our history. The fact that copies are no longer published in English makes it much more precious in the eyes of our community. It is important to preserve this book so the story may be passed on from generation to generation."
Sources
Council for Anglophone Magdalen Islanders (CAMI), www.micami.org
To Learn More
The Magdalen Islands, www.tourismeilesdelamadeleine.com
Magdalen Islands, www.cbc.ca/breakaway/magdalen-islands
George Sutherland, The Magdalen Islands: Their topography, natural history, social condition and commercial importance,1862.
Author
Sandra Stock is a Montreal writer and researcher.