"The Plough" by Anne Savage
Organization: Montreal Museum of Fine Arts (Musée des beaux-arts de Montréal)
Coordinates: www.mmfa.qc.ca
Address: 1380 Sherbrooke St W, Montreal, QC H3G 1J5
Region: Montreal
Contact: Jacques Des Roches, mberthet(a)mbamtl.org
Description: Painting by Anne Savage depicting a plough standing in furrowed fields dates from 1931 to 1933 and is part of the collection of the Montreal Museum of Fine Arts.
Year made: 1931-1933
Made by: Anne Savage (1896-1971)
Materials/Medium: Oil on canvas
Colours: Greens, grey, browns, reds
Provenance: Gift of Arthur Gill in 1970
Size: 76.4 cm x 102.3 cm
Photos: Courtesy Montreal Museum of Fine Arts
The Plough
Eve Krakow
"The beauty of the Quebec landscape is the lead-in and the lovely feeling of the country moving back and the light and so on," Anne Savage once said (McDougall, p. 183).
This is the feeling in her painting "The Plough," with its backdrop of rhythmic, undulating hills. Against this scene, she has planted the farming implement, which soars to take up the whole forefront, suggesting "the power of the human spirit to contend with nature" (www.klinkhoff.com).
Savage was an artist who played an active role in the Quebec art movements of the 1920s and 30s, and an educator who had a major impact on how art is taught today. "The Plough" lives at the Montreal Museum of Fine Arts, in the permanent collection on Quebec and Canadian Art. It is one of Savage's most recognized works, but also characteristic of a Canadian style of painting of the time, representing Canada as an uninhabited landscape, "an ideal rural land unspoiled by the influence of modern life" (www.annesavage.ca).
The MMFA acquired the work as a gift from Arthur Gill in 1970, one year before Savage's death. In the 1930s, however, it was shown at exhibitions in Toronto, Hamilton, Montreal and Atlantic City, and at the Tate Gallery in London, England, in 1938.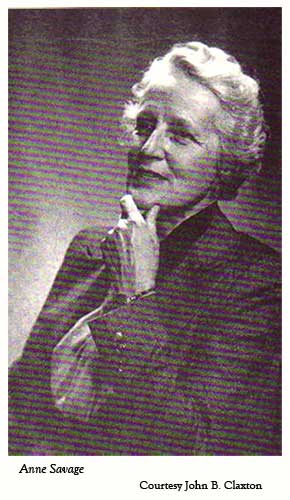 Anne Savage, the teacher
Savage began teaching art at Baron Byng High School when the school opened in 1922. She stayed for 26 years. Located on St. Urbain Street, the school was attended mostly by children of European Jewish immigrants, and has since become legendary through the books of Mordecai Richler.
Since Savage had no formal training as a teacher, she relied on her instincts, her own discoveries as a child, and her own development as a painter. Her methods were innovative and revolutionary for the time: she pushed aside the desks, did away with traditional copying of other people's works, and took her students on sketching trips to Fletcher's Field (now Jeanne-Mance Park) at the foot of Mount Royal.
But what most inspired her students—many of whom went on to become professional artists and educators—was not just her deft instruction on colour, form and composition, but her passion and enthusiasm, her love of art and design, and her ability to see the value in each person's work. "She couldn't help seeing the beauty, she couldn't help passing it on," said former student Leah Sherman, in the biography Anne Savage: The Story of a Canadian Painter, written by Savage's niece, Anne McDougall (p. 68).
In fact, it was Savage who inspired Sherman (who succeeded her as art teacher at Baron Byng) and artist and educator Alfred Pinsky to develop art programs at Sir George Williams University in the 1960s—what is now Concordia University's Faculty of Fine Arts. (Pinsky was Dean of Fine Arts from 1975 to 1980.)
Savage worked with young children too. In 1937, she began giving Saturday morning art classes at the Art Association of Montreal (now the MMFA). They were so popular she had to bring in more artist teachers and open up classes in the gymnasiums of public schools. This association led to the development of the Child Art Council, which became the Quebec Society for Education Through Art.
She left Baron Byng to become Supervisor of Art for the Protestant School Board of Greater Montreal in 1948, and in the 1950s she lectured on art education at McGill University and the Thomas More Institute.
Anne Savage, the painter
Yet as Savage struggled to juggle the demands of teaching, painting and family (she never had children or married, but took care of her mother), she saw herself first and foremost as a painter.
Born "Annie Douglas Savage" in Montreal on July 27, 1896, she grew up in Dorval (then countryside), and spent summers with her family, first in Quebec's lower St-Lawrence region, and later at their Laurentian cottage on Lake Wonish, where she eventually built her studio. Along with the Eastern Townships, these areas were major sources of inspiration for her work.
She studied at the Art Association of Montreal under William Brymner and Maurice Cullen, learning about Art Nouveau design and Impressionism (which was new to Canada). Brymner also introduced his students to the work of Tom Thompson and the Toronto-based painters called The Group of Seven. They became the most important influence on Savage's technique and philosophy of painting. In fact, she became a close friend of A.Y. Jackson, one of The Group of Seven's members.
The Beaver Hall Group
In 1921, Savage and some fellow artists founded the Beaver Hall Group, sharing studio space and exhibiting together. The group included a number of English-speaking artists who have contributed to the Quebec art world, such as Randolph Hewton, Henrietta Mabel May, Lilias Torrance Newton, and Efa Prudence Heward. Like Savage, many were students of Brymner, who encouraged them to develop a personal language, resulting in a diversity of approaches and subjects. Through A.Y. Jackson, the Beaver Hall Group had close ties with The Group of Seven.
However, it was the overriding influence of The Group of Seven that led Savage and others to form the Canadian Group of Painters in 1933, to ensure that other artists would not be excluded from the Canadian art scene. Savage was president in 1949 and 1960. But other art currents were emerging. John Lyman, whose work had caused scandal when exhibited in 1912, returned from exile in Europe. In 1938, he formed the Eastern Group of Painters, which included artists such as Alexandre Bercovitch, Eric Goldberg, Goodridge Roberts, Jack Humphrey, and Jori Smith. In 1939, he pioneered the Contemporary Art Society of Montreal; the society would become an important voice in Quebec for the next 10 years.
Sources
Anne Savage: Artist and Educator. Concordia University and SchoolNet Digital Collections. [Online], http://www.annesavage.ca
Barbara Black, "Happy 80th birthday to founder of Faculty of Fine Arts," Concordia University Journal, November 10, 2005 [Online], http://cjournal.concordia.ca/journalarchives/2005-06/nov_10/005357.shtml
Lori Callaghan, "Visual Artists: From Painting to Performance Collectives" in Recognizing Artists/Enfin Visibles! English Language Arts Network. [Online], http://www.quebec-elan.org/histories/oneView/10
Janet Braide, Anne Savage: Sa Vision de la Beauté / Her Expression of Beauty, Montreal: Montreal Museum of Fine Arts, 1979.
Anne McDougall, Anne Savage: The Story of a Canadian Painter. Montreal: Harvest House, 1977.
Barbara Meadowcroft, "Anne Savage Biography," Galerie Walter Klinkhoff [Online], http://www.klinkhoff.com/canadian-artist/Anne-Savage
"Towards Modernism (1920s-1930s)," Quebec and Canadian Art, Montreal Museum of Fine Arts [Exhibition wall panels].
To Learn More
Anne Savage Archives, 1896-1971. Rose Montgomery-Whicher, Julia L. Olivier, Leah Sherman. Montreal: Concordia University, 1989.
By Woman's Hand, dir. Pepita Ferrari. Montreal: National Film Board of Canada, 1994 [Film].
Calvin, H.A. Anne[e] Savage, teacher. M.A. Thesis. Montreal: Concordia University, 1967.
Canadian Painting in the 30s, National Gallery of Canada. [Online], http://cybermuse.gallery.ca/cybermuse/enthusiast/thirties/index_e.jsp
Barbara Meadowcroft, Painting Friends: The Beaver Hall Women Painters, Montreal: Vehicle Press, 1999.
Esther Trépanier, Peinture et modernité au Québec, 1919-1939, Montreal: Nota Bene, 1999.
Esther Trépanier, Jewish Painters of Montreal: Witnesses of Their Time 1930-1948, Montreal: Les Éditions de l'Homme, 2008.
Evelyn Walters, The Women of Beaver Hall: Canadian Modernist Painters, Toronto: Dundurn Press, 2005.
Author
Eve Krakow is a freelance writer and translator based in Montreal, specializing in areas such as education and the arts, early childhood development, and the environment. Her articles and essays have appeared in a variety of publications, including QAHN's Quebec Heritage News.