Songs of Leonard Cohen (LP vinyl featuring Suzanne)
Organization: Quebec Anglophone Heritage Network
Address: 400-257 Queen Street, Sherbrooke, QC J1M 1K7
Region: Montreal
Contact: home [at] qahn.org
Description: The first record album of Leonard Cohen, a 1970 repress of the 1967 album entitled "Songs of Leonard Cohen."
Year made: 1970
Made by: Columbia Records of Canada
Materials/Medium: Cardboard album cover, vinyl record
Colours: Black, sepia, red, orange
Provenance: Columbia Records Studio, New York City
Size: 31.5 cm x 31 cm
Photos: Rachel Garber
Songs of Leonard Cohen
Riel Lazarus
"I'm really in the middle of writing a wonderful song and I never said that before or since to anybody. I just knew. It sounded like Montreal. It sounded like the waterfront. It sounded like the harbour." (Nadel, p.150)
That's how Leonard Cohen described Suzanne to music producer, Sam Gesser, in 1966. And he wasn't the only one to feel that way. The following year, folk singer Judy Collins would make a modest hit of Suzanne on the Billboard charts, and a year after that, Cohen himself would lead off his debut album with it.
That album, simply titled "Songs of Leonard Cohen," introduced the world to a remarkably rich and distinctive musical voice. A voice that was already well known to audiences in Quebec and Canada, not for music so much as poetry and literature. Cohen had been publishing collections of verse since he was 21 years old, and had written two novels, including Beautiful Losers, in 1966.
But Cohen was ready for a change. He was determined to recast himself as a singer/songwriter, convinced that music was more relevant to the times than literature. He moved to New York in early 1967, and in mere months had been signed by industry giant, Columbia Records.
"Songs of Leonard Cohen" was released on December 26, 1967. On the front cover was a photo of a sober, staid Cohen, very much the portrait of a poet in song. On the back cover, was a painting of a woman in chains, engulfed in flames. This, to some, represented Cohen himself— the "lonely soul" who had penned such dark, enigmatic songs as Suzanne, Master Song and Hey, That's No Way to Say Goodbye.
At first, reviews of the album were mixed, and sales sluggish. But eventually, "Songs" would be considered a minor hit, having reached #162 on the US charts, and #13 in the UK. Cohen, although hardly launched into the musical stratosphere, had definitely arrived.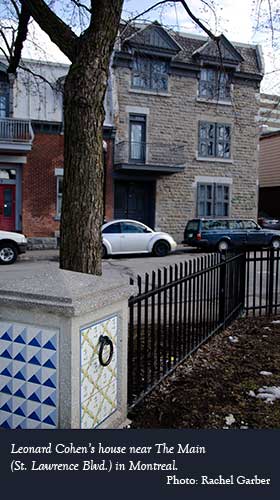 In Quebec, Cohen was a continued source of pride and inspiration to many in the province's English-speaking minority. Even if his trail was being blazed south of the border, his achievements redefined what was possible for fellow artists back home. In fact, by leaving Montreal, Cohen had followed the same blueprint other notable Anglos of the time had used to attain international acclaim. Just as Oscar Peterson and Mordecai Richler had before him, Cohen recognized that major cities like New York and London were where you went to turn promise into prominence.
And over time, that's exactly what happened. The 10 tracks on that first album became the bedrock on which an inimitable songbook was laid. Cohen emerged as one of the most talented, esteemed and influential songwriters in the music business.
Forty-five years after the release of "Songs," Cohen's career continues to have an effect on English-speaking musicians in Quebec. To be sure, his unique, wilful voice has imprinted itself into the collective unconscious of many performers in the province. Whether intended or not, artists like Arcade Fire, The Dears, Martha Wainwright and Patrick Watson are direct descendants of Cohen's. They carry on the distinctiveness, the dark sound and the energy developed by Montreal's first major musical star.
A surprising development in recent years is that the "departure" blueprint Cohen and his contemporaries followed seems to have been reversed. Montreal today is brimming with well-known musicians, most of whom have attained success while firmly rooted in the area. No longer are English-speaking artists obligated to leave the nest in order to gain wider acceptance in the music world.
Quite the contrary, in fact— thanks to a vibrant (if occasionally tense) cultural backdrop in Quebec, along with conditions favourable to the artistic life (low rent; geographical proximity to major music centres like New York and Toronto; long, productive winters), increasing numbers of talented musicians from across the continent are choosing the province as their home base.
And if we can't attribute some of this musical renaissance directly to Leonard Cohen, we can at least agree that he might have considered staying had the music scene been so spirited back in the late 1960s.
Maybe.
Sources
Ira B. Nadel, Various Positions: A Biography of Leonard Cohen, 1996.
Sylvie Simmons, I'm Your Man: The Life of Leonard Cohen, 2012.
David Carr, "Cold Fusion: Montreal's Explosive Music Scene," The New York Times February 6th, 2007.
To Learn More
http://www.nfb.ca/film/ladies_and_gentlemen_mr_leonard_cohen/
http://www.youtube.com/watch?v=Yta36Ry8UFc
http://www.youtube.com/watch?v=3UASy-aY2T0
http://www.leonardcohenfiles.com/
Author
Riel Lazarus is a researcher and writer who lives in Montreal.