Wedding Dress
Organization: Greenwood Centre for Living History
Coordinates: www.greenwood-centre-hudson.org
Address: 254 Main Road, Hudson, QC J0P 1H0
Region: Montérégie
Contact: Audrey Wall, history(a)greenwoodcentre.org
Description: The 1847 silk wedding dress of Mary Cecilia Delesderniers, who married Captain Robert Ward Shepherd.
Year made: 1847
Made by: Handmade, unknown
Materials/Medium: Silk
Colours: Cream, bands of gold and light blue
Provenance: Unknown
Size: Length shoulder to floor, 127 cm; width across shoulders, 40.64 cm.; waist, 50.8 cm. with insert (originally 40.62 cm.); length summer sleeves, 12.7 cm.; length detachable winter sleeves, 40.64 cm.
Photos: Rachel Garber. Courtesy Greenwood Centre for Living History
Mary Cecilia's Wedding Dress
Audrey Wall
The story of the wedding dress housed in the collection of the Greenwood Centre for Living History starts during the French Regime, around 1732. Pierre de Rigaud Marquis de Vaudreuil, the second seigneur of the Vaudreuil seigneury, granted lot #16 to Jean-Baptiste Sabourin, a censitaire (habitant) from Pointe Claire.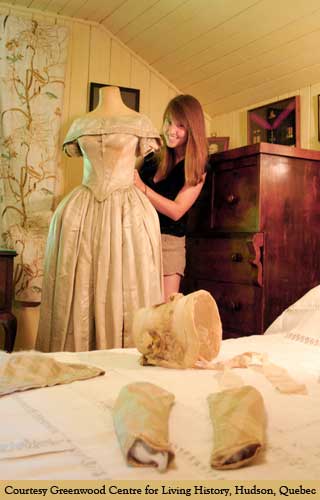 In return for his land and for protection by the seigneur, Jean-Baptiste Sabourin had to provide a corvée (three or four days a year of unpaid work, such as land clearing, building, or helping with the harvest), plus annual rent. On top of those dues, he had to share a certain portion of wood from his land and fish caught off his shoreline. The seigneur was also entitled to a "milling right" which meant that 1/14th of the grain Jean-Baptiste milled at the seigneur's Vaudreuil mill would remain there. Jean-Baptiste was also a Captain of the Militia, second in command after the seigneur for the Vaudreuil seigneury, and a fur trader.
Jean-Baptiste Sabourin and his wife Sarah Hanson prospered on their property. Their modest frame building is the oldest remaining structure from the former Vaudreuil seigniory and the original section of Greenwood. The Sabourins and their descendants would live at Greenwood for almost a century.
In 1821, John Mark Crank Delesderniers acquired the property from the Sabourins. Delesderniers. a man of Swiss Huguenot descent, was born near what is currently Windsor, Nova Scotia. Proficient in English, French and several Aboriginal languages, he worked throughout the years as a trader, surveyor, mill owner, "Agent of the Crown" to the Iroquois and Algonquins, customs official and sheriff. He utilized his property as a general store and in 1824, his son, Peter Francis Christian (Frank, as he was called) Delesderniers and his 16-year-old bride, Amelia Rice, moved into the home and took over the business. Their only child, Mary Cecilia, was born there in 1826.
Life was prosperous for the family. In 1840, there was another expansion to the home/store, now called "Greenwood," to accommodate the first post office in the area. Frank was its first postmaster. He died in 1854, and his wife lived six more years without him. Both, however, were alive when their daughter, Mary Cecilia, married Captain Robert Ward Shepherd in 1847. Her beautiful wedding dress reflects the level of prosperity and success of the two wealthy business merchant class families that were united at that time.
Robert Ward Shepherd was the largely self-educated son of John Shepherd and Esther Ward, who had emigrated from Norfolk, England. R.W. Shepherd was known as both a leader in the community and a pioneer in the development of steam navigation on the Ottawa River. After serving as a volunteer in the 1837 Rebellion, he made his living in the shipping business. He identified the channel through the Vaudreuil rapids and was subsequently given the command of the "Oldfield" steamer. R.W. Shepherd moved up the ranks in 1857 with his appointment as the second president of the Ottawa Navigation Company.
Shepherd's entrepreneurial focus, however, was not only on the water. In 1849, Captain Shepherd built "Riversmead," just down the road and east of Greenwood, and a decade later, "Rose Cottage." When the family moved to their new home, Greenwood became a summer residence.
The eldest son of Robert and Mary Cecilia, R.W. Shepherd II, and his wife, Margaret Anne Robertson, shared Greenwood with R.W.'s sister, Mary Roberta (May) Shepherd, who had married George Ross Robertson. The house was divided into two parts, one for each family, with a kitchen extension added at each end.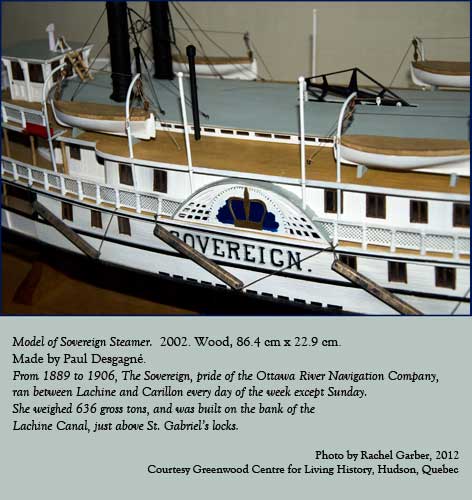 From an archived note written by R.W. Shepherd III, we get a sense of the summer exit from the city to the leafy refuge of Greenwood:
"One of the highlights of our younger days was the exciting experience each spring when our family moved from Montreal to Como (now Hudson) for the summer. My brother, sisters and I were driven to the Company dock on the Lachine Canal by the same old cabby each year. There we boarded the "Sovereign" while she was taking on fuel and supplies. We children slept on board, going up the canal between eight and ten o'clock at night to the Lachine Wharf, where the steamer lay over until morning, proceeding to Como the following day. The sights along the Canal intrigued us, watching flames pouring out of the iron chimneys of the rolling mills, meeting other craft, steamboats, tugs and barges and to smell the steam and oakum on the main deck. All this added to the thrill of the trip."
When Mary Cecilia Shepherd passed away in 1901, R.W. Shepherd II inherited Riversmead, and Greenwood was bequeathed to his youngest brother, Delesderniers (Del) Shepherd. Like his father, R.W. II wanted to make his land pay for itself, so he operated "Greenwood Nurseries and Orchards" on the Riversmead property. R.W. grew, packaged, and shipped apples to friends and royalty in the "old country." Popular apples included "Fameuse," "Wealthy," "McIntosh," and "Winter St. Lawrence." Apples were considered a precious commodity, so R.W. Shepherd II had them packaged individually, like eggs.
During this time, Del Shepherd, and his wife, Vicky McCallum, used the house to entertain and hold lavish parties. Numerous renovations were carried out to accommodate their grand lifestyle. Unfortunately, their marriage ended in a divorce, but Del stayed connected to Greenwood until his death in 1924. Prior to his passing, Del had sold Greenwood to his sister May, who in turn exchanged the house with Dr. Francis (Frank) John Shepherd, a former Dean of the Medical Faculty at McGill University. He had originally purchased "Rose Cottage" as a gift for his daughter, Cecilia Shepherd, but exchanged it for Greenwood.
Cecilia married Percy Erskine Nobbs, a young architect from Edinburgh, Scotland. Percy immigrated to Montreal when he was offered the Macdonald Chair of Architecture at McGill University. They had two children, Phoebe and Francis. The family lived in a house designed by Percy on Belevedere Road in Westmount.
Percy Nobbs is well known for his work as an architect. The McCord Museum, for example, is one of his designs. What is less known is that Percy was an avid fly fisherman, the founder of the Atlantic Salmon Foundation, a skilled fencer (he won the silver medal at the 1908 Olympics), a canoeist, and a hunter. Percy even designed the bridesmaids' dresses for his wedding! Percy also played a key role in bringing the Arts and Crafts movement to Canada. Cecilia and Percy acquired Greenwood in 1924. They decided against tearing down the old house and instead, turned it into a comfortable summer home.
Their children, Phoebe Nobbs Hyde and her younger brother Frank, grew up in Westmount, spending the summers with their grandfather, Dr. Frank Shepherd, at Greenwood. After Phoebe finished school, she was sent to finishing school in London, England. It was here that her talent for drama was recognized and encouraged. She was 18 years old and the year was 1928. She had already met a handsome Cunard Line officer, Andrew MacKellar, on her first trip to England and she was in love! Being married to a ship's officer led to a different kind of life. They had an apartment in London, but Phoebe still spent her summers at Greenwood. In summer, she only saw her husband when his ship came into Montreal, which was four or five days a month.
It was during these summers that she started to get together with friends and relations to present Shakespeare plays in the Greenwood garden. Her great-aunt May Robertson was also an enthusiast in this project and loved acting. After the war, Phoebe MacKellar returned to England where she lectured on Canadian folklore to women's groups and schools, as well as studying at the British Museum. Every summer she came back to Canada and often travelled west to collect material for her lectures. Around this time, her mother sold Greenwood to her.
In 1959, Andrew MacKellar died. The following year she married Reid Hyde. He was 82 years old and she was 50. He died 6 years after their marriage. During the next 30 years, Phoebe was a permanent resident of Hudson and became very involved in the community. She was President of the Hudson Historical Society and President of the Garden Club. She started the annual flower and vegetable show; she helped publish historical books as well as working for St. Mary's Church.
In her will, Phoebe left Greenwood to "The Canadian Heritage of Quebec," a non-profit organization dedicated to the preservation of lands and buildings of beauty or historic interest in Quebec. It is her legacy to Hudson and the surrounding area.
Sources
That was Phoebe: A Community Remembers its Past www.museevirtuel-virtualmuseum.ca
Archival Collections from Greenwood Centre for Living History
To Learn More
Percy Erskine Nobbs (1875-1964) http://www.mcgill.ca/aoc/greatest-mcgillians/percy-erskine-nobbs
H.R. Morgan, "Steam navigation on the Ottawa River," Ontario Historical Society Papers and Records Volume 23, 1926.
Robert Ward Shepherd Collection, www.collectionscanada.gc.ca
Author
Audrey Wall is the Executive Director of the Greenwood Centre for Living History